Art & traditions
Carnival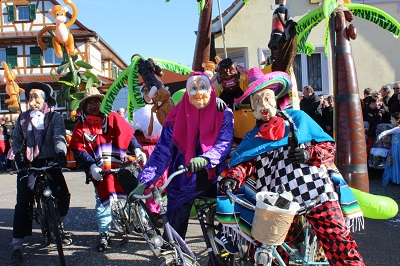 ---
Saint Martin's Day
A message for lovers of traditions
Born in Hungary in around 316 but raised in Pavia in Italy, Martin came to Gaul as a young Roman soldier. One winter evening in 338/339, whilst he was at the garrison in Amiens, he came across a beggar shivering with cold. With a stroke of his sword, he sliced through his cloak and offered half of it to the beggar, thus setting a good example of generosity for his comrades in arms.Each year on 11 November, to commemorate this act of sharing, children in a number of European countries march in procession and, lantern in hand, follow Martinus the cavalryman. Legend has it that, in Tours in 371, to escape his election as bishop, Martin hid in a pen among some geese which naturally betrayed him with their honking. In fact, roast goose has always taken pride of place on the festive table on Saint Martin's Day.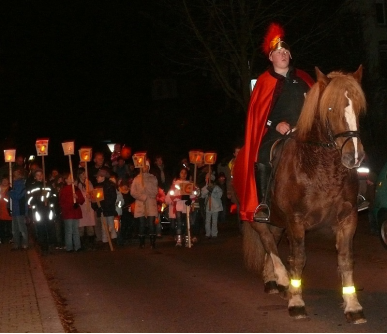 Join us in Lauterbourg on 11 November
The procession: On the Place du Château at 5 p.m., you can listen to the story of Saint Martin. Then, at the head of the procession, St Martin will ride through the streets of the town, trailed by children carrying lanterns. Chocolate buns will be handed out to them. Free admission.
---
The Christmas time
Around the Rhine, Christmas traditions are marked by the culture of boatmen who would bring back from their fantastic trips, ideas and spices. The Rhine, source of legends and myths, cradles the atmosphere of the illuminated villages and the lovingly decorated houses, a Christmas atmosphere for all ages: concerts, christmas markets, workshops, tales, ...