Natural side
Noah's ark on the doorstep of the Rhineland town
The Sauer Delta, prestigious area, is renowned for its important natural wealth. Its fauna and flora, typical of damp areas, flourish in Rhineland forests, reed beds and floodplains. There are numerous species of birds, mammals, batrachians, fish and plants, some rare, to discover.
The nature initiation center
A world of nature to explore on your doorstep!

Comprising professional naturalists and volunteer nature guides, the Nature Center has been endorsed as a "Center for the Introduction to Nature and the Environment" (CINE). In addition to its educational work with school children, it also works with the general public to introduce them to the countless riches of the landscape and the flora and fauna to be found in its territory. From the Northern Vosges to the Rhine, from Le Bienwald to the outskirts of Strasbourg, the Nature Center is our guide to information on and exploration of the living world that surrounds us.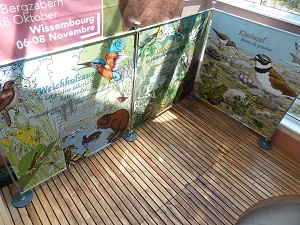 In addition to the activities of the "General Public" and "Schools" programmes, the CINE is able to propose activities according to your more specific requests and interests.
For more information:
Maison de la Nature
42 rue du Rhin
67470 MUNCHHAUSEN
Tél. 03 88 86 51 67
The nature reserve
The nature reserve of the delta of the Sauer is part of the river forest of Alsace and contains a remarkable mosaic of natural habitats, which the ornithological station.
On land there are:
A mix of forest sites showing the different stages of the evolution of the alluvial forest environment from fast growing pioneer forests of soft wood made up mainly of White Willow, to the final hard wood forest of hard wood made up of pedonculate or English oak, ash, elm
plantations of hybrid poplars
meadows, mainly in the Grosswoerth, where big reed beds cover the most humid ground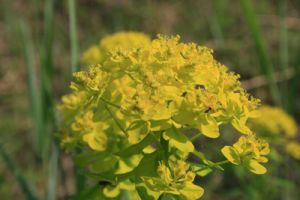 "Euphorbia palustris"
Aquatic areas :
The Sauer and its different branches more or less connected to each other depending on the water level.
Gravel pits excavated more recently.
Between these two distinct important types of environment there are mudflats that vary in size according to water level during flooding.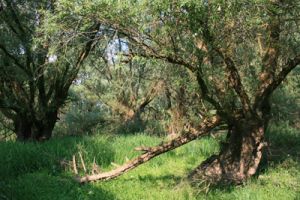 Willow forest
These different natural habitats are hosts to rich and varied flora and fauna with a survey revealing 400 different plants, 182 types of bird, 34 varieties of dragon fly, and 20 types of fish.
Surprise yourself exploring these different zones and their exceptional natural assets alone or with a guided tour organised by the site manager.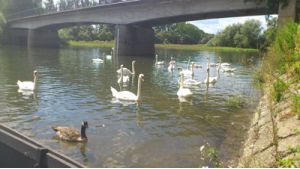 For more Information :
Conservatoire des Sites Alsaciens
Antenne du Bas-Rhin
1, rue des écoles – 67850 OFFENDORF
Tél. 03 89 83 34 10 – Fax 03 88 59 77 01
www. conservatoire-sites-alsaciens.eu