Alfred Tinsel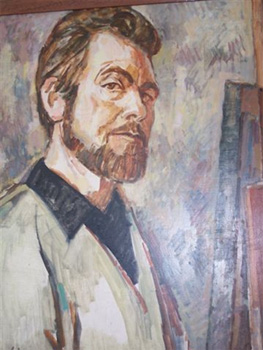 Born in Metz on 15 April 1920, Alfred Tinsel moved to Seltz with his family in 1934. Not part of any post-war artistic movement, he painted portraits, landscapes and still lives in a figurative style. He exhibited his work in France and abroad. A member of the « Association des Artistes Indépendants d'Alsace » (Alsatian Independent Artists Association), he never tired of painting Strasbourg, the banks of the River Ill, the churches of « Saint Guillaume » (Saint William) and « Saint Paul » as well as villages and landscapes throughout Alsace.
He captured the light of the South during his numerous travels in Morocco, Spain, Italy and Greece and returned with equally admirable watercolours from Brittany and northern towns such as Bruges. He knew how to seize the River Seltzbach in freezing weather and the beauty of wide snow-covered expanses in the Kochersberg area. A retrospective exhibition in 1991 in the art house of the « Ancienne Douane » in Strasbourg, gave an overview of his work.

Two of his works acquired by the Town Hall hang on the walls of the Seltz Tourist Office. A self-portrait, offered by his son Olivier, casts a haughty look at visitors while a winter, vineyard landscape contrasts the warmth of a family scene. He also made a scale model of the Canton of Seltz as well as the drawing for the stain-glass window at the Town Hall entrance.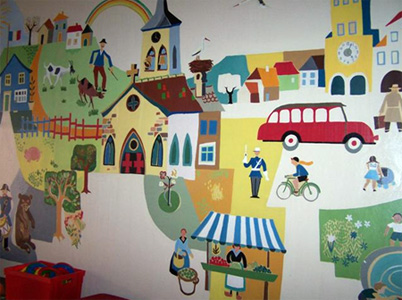 A multi-facetted artist, student then teacher at the « Ecole des Arts Décoratifs de Strasbourg » (Strasbourg Decorative Arts School) from 1957 till 1988, he made several frescoes for schools in the « Bas-Rhin » district, the most important of which is a mosaic which measures twelve-by-three metres, on one of the outside walls of the « Ecole Saint Georges » (Saint Georges' School) in Haguenau.
The games' room of the Seltz Primary School is brightened up by one of his playful paintings.
Alfred Tinsel left an indelible trace of his artistic sensitivity throughout his career. He died on 11 March 1989 and was laid to rest in the Seltz Cemetery.